ENG
[Name of the Customer]
– NNP Korea (NNPK)
[Solutions involved]
– None
[OS platforms]
– CentOS 7 / Windows 2012 R2 / Standard with Windows 10 
[Before and after infrastructure and architecture details for relevant systems]
– New AWS Architecture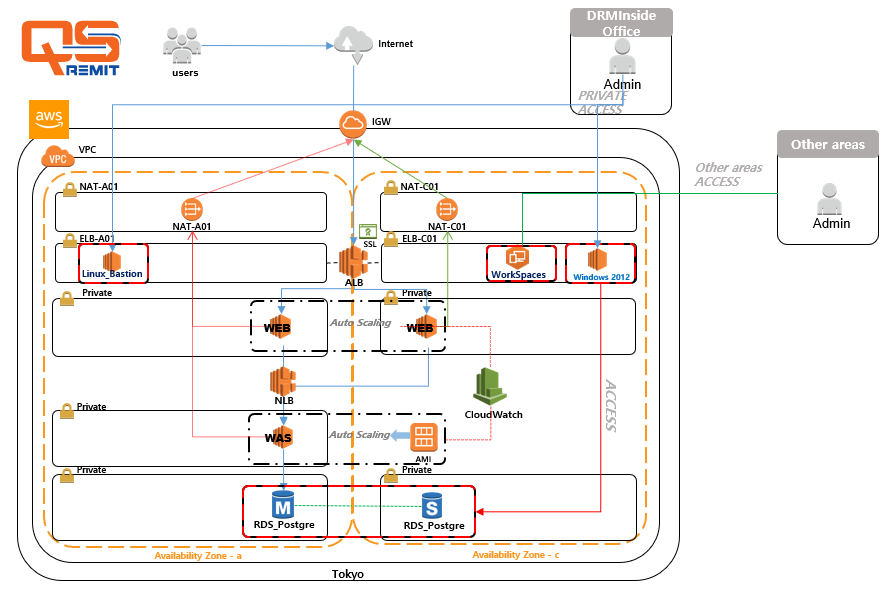 [Related third party applications or solutions used]
– None
[If migration of an existing environment, source infrastructure and architecture]
– New Service
[Problem statement / definition] 
– N&P Korea had difficulty in building H/W and long time to IDC for the project.
By introducing AWS Cloud, which has no initial investment cost and fast deployment, we were able to reduce costs by more than 90% compared to the cost of building IDC centers in Korea. In addition, we were able to provide services more stably by strengthening the system to respond to security issues following the overseas remittance system.
Multi-AZ redundancy enables both reliability and continuity by providing a fault-optimized architecture, and enables IT operations to dualize server access to Windows Bastion Host and Amazon Workspace in a private/public environment built with server access control.
[What you proposed]
– For smooth access and utilization of Japanese services, we proposed to configure services in Tokyo Region, and separated WEB/WAS to consider traffic distribution and service scalability. DB proposed RDS, a relational database that manages OS patches and backup/recovery for the convenience and business concentration of developers because there is no DB manager inside NNPK. In addition, Scheduler Server proposed Auto-Scaling services to satisfy both one-man drive/service continuity.
[How AWS services were used as part of the solution]
– To reduce the cost of excessive H/W and redundancy in On-Premise, the T-Series was used to satisfy server performance when there was no traffic, and Auto-Scaling was applied to automatically add servers when there was traffic, and otherwise maintain a minimum cost of on-Premise.
[Start and end dates of project]
– Start Date : 2018.10.15 / End Date : 2018.10.30
[Outcome(s) / result]
– AWS Cloud was able to significantly reduce costs compared to the estimated cost of deploying On-Pre, and RDS made DB management easier for administrators. And by automating services on AWS, you focus on your business, and you leverage the cloud to consider a variety of global service scalability.
[About N&P Korea]
– N&P Korea has developed a QS REmit application that provides overseas remittance services based on fintech technology.
In Korea, due to the revision of the Foreign Exchange Transaction Act from July 2017, small overseas remittance businesses of non-financial companies were allowed, and previously, fintech companies could not operate overseas remittance services alone. As of 2016, the global overseas remittance market is estimated to be $575 billion and the domestic market is estimated to be about $10.3 billion.
As of 2018, there are a total of 18 small overseas remittance companies officially registered with the Financial Supervisory Service, and N&P Korea is one of the representative overseas remittance companies in Korea and provides specialized services for remittance services in Korea and Japan.
[The Challenge]
– N&P Korea was preparing to enter the global business by establishing overseas remittance systems in Korea and Japan. As part of the development of new services for overseas expansion, we had a plan to develop a QS REMIT service as an application for small remittance transactions.
– However, the cost of initial infrastructure investments required to build and operate IDC centers in Japan, as well as the duration of H/W equipment deployment, was the biggest obstacle to the overall development schedule delay. In addition, the supply and demand of local IT operations personnel at overseas branches was not smooth, and in the long run, the burden of manpower operation costs was causing difficulties in preventing them from focusing on developing new services.
[Why Amazon Web Service?]
– N&P Korea received consulting on the introduction of AWS cloud services as an infrastructure operation plan of the Japanese branch. We focused on flexible infrastructure utilization, network scalability for future global service expansion, and supplementation from the development stage of QS REMIT of new application.
– N&P Korea introduced AWS RDS (Amazon Relational Database Service) to provide DBMS provisioning for easy setup operation and expansion, and built redundancy by creating Multi-AZ replicas for availability. Due to the nature of financial transactions, security access control was established in two ways to strengthen access to security. In the private environment of IT operations personnel in the office, we created Bastionhost based on Windows EC2, and in the public environment (on-site and overseas business trips) server access control provided a secure, ubiquitous desktop environment by creating Windows Desktop.
– In addition, Multi AZ (Availability Zone) WEB/WAS servers based on AWS ELB (Elastic Load Balancing) have been secured with reliability and availability through redundancy configuration, and provided flexible expansion and efficiency of WEB/WAS servers through AutoScaling configuration.
KOR