ENG
[Name of the Customer]
Good Neighbors Corporation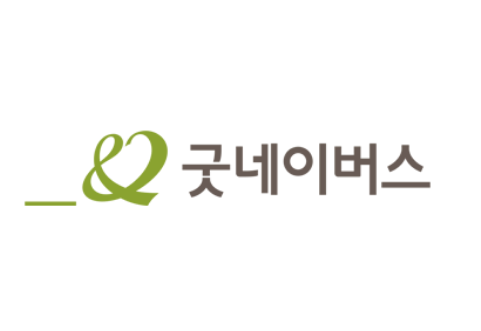 [Solutions involved]
Double-take for Migration from Azure to AWS
[OS platforms]
Windows 2012 R2 (3ea)
[Before and after infrastructure and architecture details for relevant systems]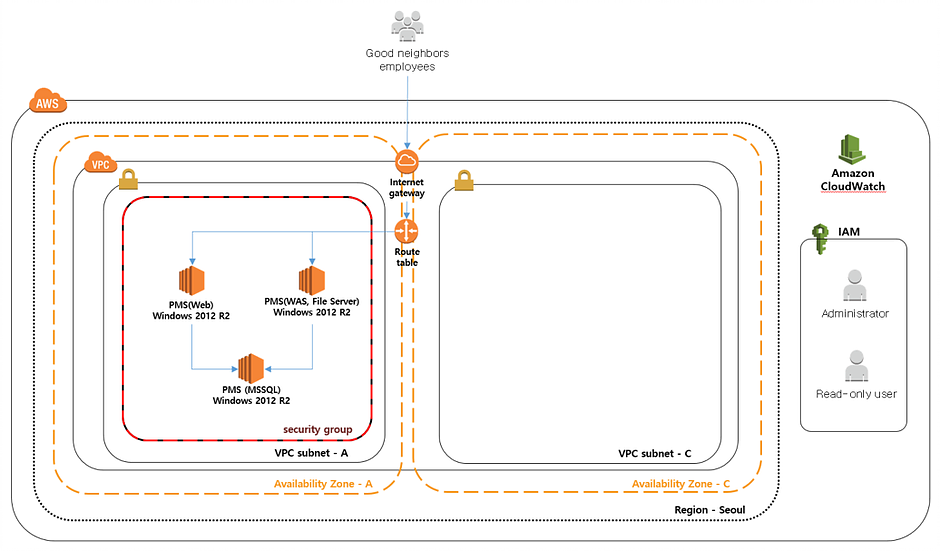 Infrastructure configuration diagram migrated from Azure to AWS
[Related third party applications or solutions used]
Used 3rd party application, no solution
[If migration of an existing environment, source infrastructure and architecture]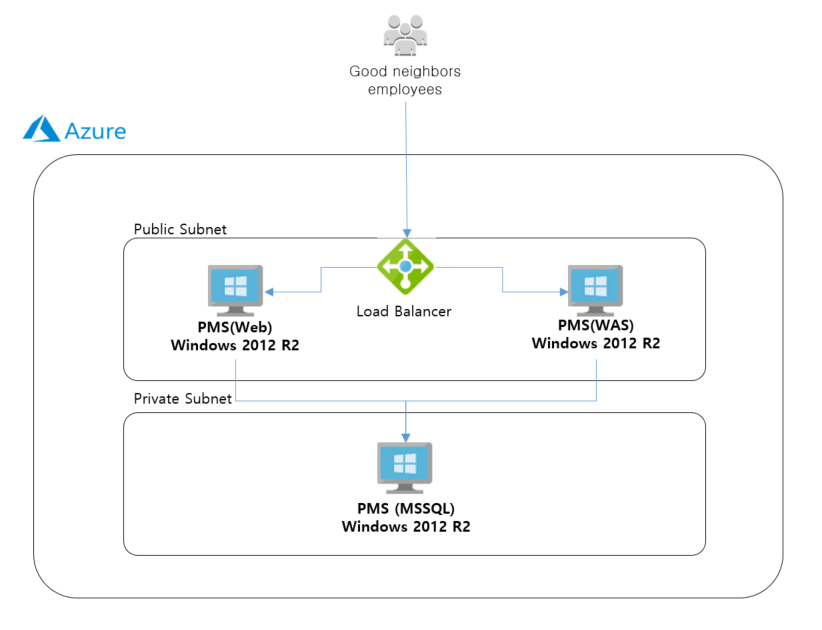 PMS service operated by Azure
[Problem statement / definition]
Want to change AWS platform due to instability such as frequent server shutdown in Azure
[What you proposed]
Since it is a service exclusively for Good Neighbors employees, we decided that excessive traffic or high computing resources would not be required, and we checked the computing resource utilization of Azure in use and suggested it as a general-purpose instance type (M4.large). The reason for the proposal in the MSSQL-on EC2 format instead of RDS was because Good Neighbors needed to install a DB security solution.
[How AWS services were used as part of the solution]
Good Neighbors uses the Web (EC2, M4.large, 40GB, 100GB EBS (GP2) service, WAS & File Server (EC2, M4.large, 40GB), 400GB (File Server) EBS (GP2) service, and DB (MSSQL, EC2, M4.large, 60GB) service 
[Start and end dates of project]
Start date : 2018/02/06
End date : 2018/03/16
[Outcome(s) / result]
30% cost savings and stabilization without service downtime since AWS transfer. 
[About Good Neighbors]
Good Neighbors is a global NGO established in 1991 and carries out specialized social welfare projects such as regional development and child welfare and international development cooperation projects, and raised about 160 billion won (as of 2018) through 2 domestic and foreign projects. In addition, it was selected as the first domestic NGO to be an official partner of the United Nations World Food Program (WFP) in 2011, and is conducting overseas child welfare and overseas aid projects through the establishment of a global network.
Good Neighbors is the leading non-profit organization in Korea that introduced online marketing
Since 2009, we have introduced new marketing channels such as Twitter and Facebook to hold various fundraising promotional events.
[The Challenge]
Due to the nature of the non-profit foundation business, it was necessary to draw attention to social issues through campaign introduction pages optimized for various social marketing channels to increase accessibility of potential sponsors.
When a new business or campaign starts, Good Neighbors is organized into a TF composed of business teams and marketing channel managers and operates in a systematic organization. Through this, a campaign can be held in which existing sponsors or website members recommend Good Neighbors sponsorship programs to acquaintances by utilizing the unique characteristics of each marketing channel.
Good Neighbors runs a landing page that can effectively promote various campaigns that are carried out irregularly, but they have suffered from repeated reboots and service failures that occur on other companies' cloud services. Due to the nature of the campaign page, we have inquired about ways to reduce management costs while operating without service failures even if traffic is concentrated.
[Why Amazon Web Services]
Good Neighbors built an event web service using the 'static web page hosting' function, which is one of the functions of AWS S3, and secured high availability through redundancy. In the past, Windows OS was used in the same way as the On-Premise environment, and SQL Server was installed in EC2 to allow custom maintenance in order for the customer to maintain RDMBS himself. Redundancy is still under consideration, and we have established a backup policy to periodically run SQL Database fullbackup and LogBackup on local disks so that they can be recovered at any time in the event of a failure.
The aws architecture above shows how to respond quickly and reliably to service failures on campaign pages operated by Good Neighbors.
[The Benefits]
Good Neighbors was able to secure service stability by building DB on EC2 instance instead of RDS in the structure of PMS service, which is a management method for existing internal projects, and reduce management costs through static web hosting and smooth content distribution supported by S3.
In addition, through the relocation to AWS Amazon Web Service, we were able to receive 30% cost savings compared to other cloud services through RI for the massive campaign content DB management.
Good Neighbors reliably ran campaign pages optimized for various online marketing channels based on the AWS cloud, increasing the accessibility of potential sponsors and securing the reliability of existing sponsors.
KOR