ENG
[ Name of the customer]
COINCHEL CUBES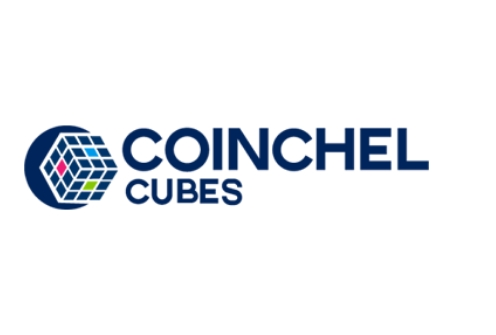 [Solution(s) involved]
MSSQL Always-ON, Active Directory
[OS platform(s)]
Windows 2016 + MSSQL 2017 Enterprise (BYOL)
[Before and after infrastructure and architecture details for relevant systems]
None
[Related third party applications or solutions used]
Vormetric (Agent-based DB encryption)
[If migration of an existing environment, source infrastructure and architecture]
None (New)
[Problem statement / definition]
Use through AWS consulting while looking for ways to improve operational efficiency while reducing fixed costs associated with operational management
[What you proposed]
1) Multi-AZ MSSQL Always-On proposal with 3rd DB encryption solution installation, TDE, OLTP – Service stability
2) Adjust MSSQL DB specifications to match service usage – reduce service costs
3) Configure security services tailored to financial regulations (independent VPC configuration by service, additional security tools) – enhance service security
[How AWS Services were used as part of the solution]
1) Best service cost consulting by consulting and deploying AWS Cloud to reduce startup operational management & fixed costs
2) Proposed Multi-AZ MSSQL Always-On to implement optimized HA environments for increased reliability of real-time cryptocurrency transactions
3) 60% cost savings with MSSQL DB Specification Down-Sizing tailored to service usage
4) Helps build security services tailored to financial regulatory security
[Start and end dates of project]
2018.01.01 ~ 2018.09.30
[Outcome(s) / result]
Implement an HA-configured MSSQL environment, optimize costs for service usage,
Building security services tailored to financial regulations
[About Coinchel Cubes]
As of January 2019, there are more than 200 exchanges in Korea, and CoinCube, established in 2016, is an online and offline exchange that has an agreement with the International Cryptocurrency Exchange, and is used as a basis for various international exchanges, mainly Chelsea Coin.
[The Challenge]
As a startup that provides international cryptocurrency trading services, CoinCube has been requesting consulting on ways to minimize infrastructure construction costs while securing flexibility in service expansion. In addition, we have been asking for the best RDMBS to leverage the Readonly capabilities of Secondary Replica in MS SQL Server Always On Availability Groups to actively utilize SQL Server databases for load balancing.
[Why Amazon Web Service]
Coinchel Cube has been asking for consulting focusing on the stability of supplementation according to the characteristics of the coin exchange. Therefore, by separating the WEB server and API server, SQL Server access was created and built separately so that only API server can access it. MS SQL Server was created as an EC2 type that can be custom tuned on behalf of RDS SQL Server to optimize server tuning and SQL tuning. In addition, the MS SQL Server AlwaysOn Availability Groups feature was utilized to install the primary and secondary replica structures. SQL Server AlwaysOn Availability Groups has enabled the ReadOnly feature of Secondary Replica to design it for SQL Server load balancing, and you can create additional Secondary Replica if needed.
Using the Availability Group Listener function, it is built to maintain the online service within seconds without changing the application connection string of the API server in case of SQL Server failover. The primary backup was also performed as a Job Agent from the Secondary Replica of SQL Server to create a backup policy so that there is no load on the Primary Replica SQL Server.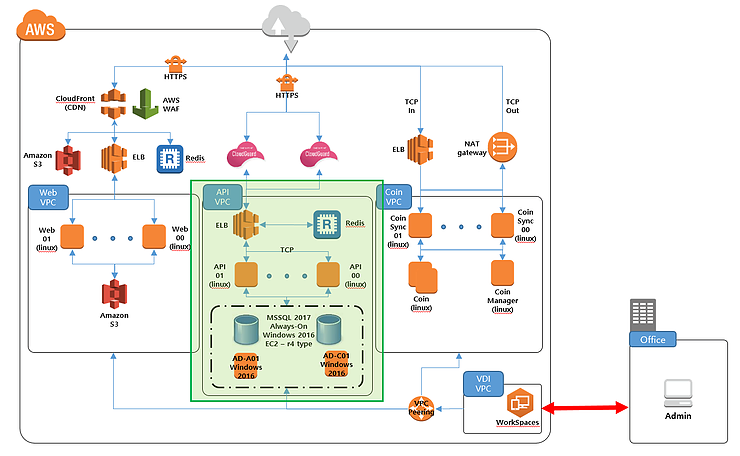 The AWS architecture above shows the database operation plan of the international cryptocurrency trading service operated by Coinchel Cube.
[Benefit]
Coinchel Cube has reduced costs by about 30% compared to its existing architecture by cleaning up unnecessary resources and changing license types on cloud servers. In addition, MS SQL Server AlwaysOn Availability Groups features have been leveraged to reduce the cost of replication solutions and to increase availability by deploying SQL Server server redundancy and storage redundancy.
Due to the nature of the cryptocurrency transaction service, CoinCube had high concerns about supplementation, and accordingly, it increased customer satisfaction by stabilizing supplementation through Checkpoint, Amazon Guard Duty, and Amazon Inspector systems.
KOR